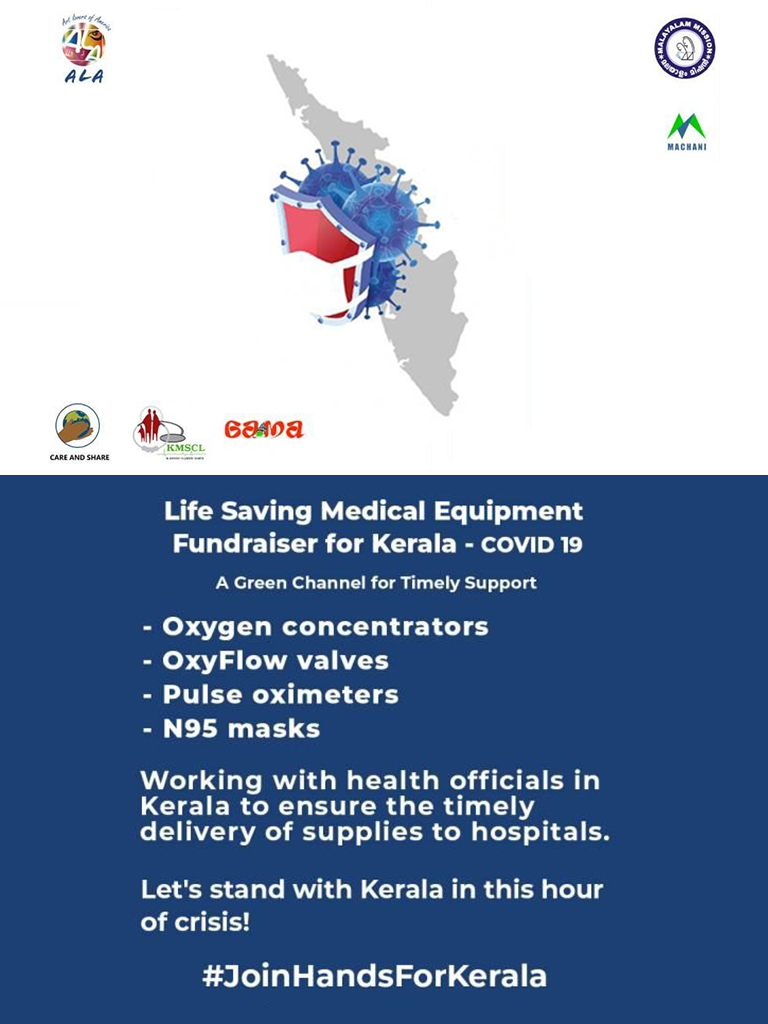 As COVID continues to spread across India, the future has never felt so unpredictable. These are challenging times for all of us and especially for our near and dear ones in Kerala. The second wave has hit hard as everyone is doing their part to bring it under control.
As Kerala and the rest of India faces a lot of uncertainty, more than ever, our community back in Kerala needs us. And we need you.
GAMA has decided to join hands with Art Lovers of America (ALA) and Care and Share to send Life Saving Medical Equipment to fight COVID-19, working with medical officials in Kerala.
The funds will be used for procuring and sending:
Oxygen Concentrators
Oxyflow valves
Pulse Oximeters
N95 masks
In times like this, we're reminded of how interconnected we all are. Thank you for being part of this. Without you, none of this is possible.
The partnership with ALA and Care & Share allows all three organizations to join together to work towards a common cause leveraging the economy of scale. This will allow us to procure goods in bulk at a cheaper rate and use resources among all three organizations to procure, ship, and distribute the medical equipment.
If you have corporate matching available through benevity, please take advantage of that by looking up this campaign listed on your employer portal.
Companies usually match donations. When an employee makes a donation, they can request a matching from their employer. Company matching means that if you donate $10, your company will also donate $10 towards the cause. Companies usually match donations at a 1:1 ratio, but some will match at a 2:1, 3:1, or even a 4:1 ratio.
Step 1: Login to your employer matching website such as Benevity.
Step 2:  Search for the non profit, "Care and Share". Please check to make sure it matches EIN 36-3708966 before making your donation
If you are unsure if your company offers this benefit or want the instructions to request for match, please head to https://www.careandshare.com/alaforkerala and search with your employer name.
About ALA and Care and Share:
ALA – Art Lovers of America ( www.artloversofamerica.org), is a non-profit organization that promotes Indian cultural activities among the Keralites across the USA.
Care & Share (www.careandshare.com), is a non-profit 501(c)3 charitable organization that serves the community by providing disaster response, medical and research support and addressing homelessness.
Please click the below link to donate
https://charity.gofundme.com/o/en/campaign/ala-fundraiser-to-support-keralas-fight-against-covid-19