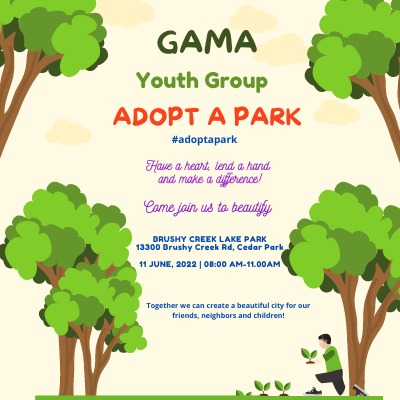 What is Adopt-a-Park?
A program that provides an opportunity to cultivate community involvement through volunteering activity. The City of Cedar Park encourages families, neighborhoods, community groups and business organizations to get involved to help our environment and preserve our parks, gardens, trails and lakes. These areas contribute to the quality of life enjoyed by residents and provide a foundation to foster ongoing economic and commercial development of the community. With your enthusiasm, willingness, and effort, we can better keep our parks in this top condition.
Once a group has selected a park/trail and been approved, they will beautify and maintain  the adopted area for a minimum of one year. Within that year, they will service their area four times throughout that year. GAMA Youth Group is adopting Brushy Creek Lake Park in 2022 and planning our first volunteering day on March 19th followed by three more in June, October and December.
Recognition:
Participants and groups who wish to Adopt-a-Park will receive recognition from the Parks and Recreation Department in the form of a standardized sign posted at the facility that they have maintained and a Certificate of Appreciation signed by the Cedar Park Parks and Recreation Advisory Board. The youth volunteers involved in this will also get a volunteer certificate on request.
What are the benefits of Adopt-A-Park?
Help beautify our parks and community
Gain a sense of community and park pride
Help preserve our natural resources
Meet new people
Contribute to the "Quality of Life"
Great way to get exercise
Personal satisfaction of helping others
All volunteers must complete, sign and return the Adopt-a-Park waiver form which GAMA will provide on the day of the event.
(Minors are required to have a parent or legal guardian's signature on this).
Register here to volunteer for Adopt-A-Park Program on or before 6th June 2022